HOME & YARD Medical Alert System Review
Speak directly into the 2-way voice pendant with the HOME & YARD Medical Alert System from Medical Care Alert.
One of the most difficult things about watching a loved one grow older is seeing them become increasingly restricted to the confines of the home. In many of these situations, it's not that the person is too weak to go outside, but the fear of some type of accident keeps them indoors. Activities such as gardening, which often keep people busy in their backyard, do involve a lot of bending over, stooping, and even a little bit of lifting, all actions that involve a risk of harm for those who are not as able-bodied as they once were.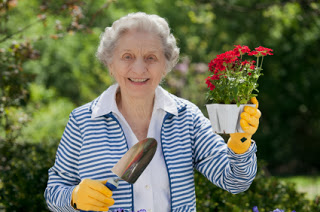 Well, with resources like the HOME & YARD medical alert device from Medical Care Alert, the days of allowing fear to limit you are over. This device, which can conveniently be worn as a wrist strap, belt clip, or a medical alert necklace is just what you need in order to be able to go about doing all your favorite chores in and around the house. The main reason for this, of course, is the fact that help – should you need it – is available with just the click of a button any time of day or night.

Knowing that an EMT/EMD certified operator is that close can be a very empowering feeling, but it is not the only reason that you can feel so confident when you have this medical alert device. Here are a few more:
Automatic check in – The pendant sends a signal to the base station every 13 hours, notifying it of loss of power, low battery, or signal loss.
Answer calls with the pendant – Not having to worry about running back into the house to answer the phone.
Wide range – the pendant works even 600 feet away from the base. How will you know if you've gone beyond that? The pendant will beep when you do.
Water resistant – wear it in the bathroom or shower, where slipping is a big concern.
Easy-to-test long life battery – four hours of talk time and four months of stand-by on a full charge.
Of course, all of these features go to make sure that, in the event of an emergency, getting help will be that much easier. Having a device like the HOME & YARD pendant attached to the hip allows for the freedom and confidence that your loved one deserves.

Need even more of a reason to give this medical alert system a try? There are plenty: no long term contracts, no activation fees, a monthly rate as low as $32.04, and all the equipment – such as the base and the medical alert necklaces – for free!

There are plenty more features that make the HOME & YARD pendant a great choice for empowering seniors. If you are interested in learning about them, please feel free to call us at 1-855-272-1010. A member of our team will be happy to answer all of your questions, address all your concerns, and let you know how one of our medical alert necklaces can help your elderly relatives thrive!

Also, have a look at some of our medical alert systems reviews to see how great our clients feel when they use our HOME & YARD medical alert system!
Free Brochure
By Mail
Or call us at
1-855-272-1010