Questions to Ask Before Going on Vacation
Staying fit and healthy during vacation is first and foremost on every senior's mind.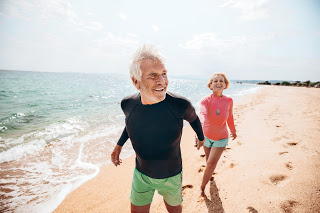 For those who have health and mobility issues, there are questions that need to be answered before setting foot on the plane or slipping behind the wheel.
Will my GPS medical alert system follow me where I go? Do I need to do anything special when I get to my destination to make sure it works?
The medical alert system that you have should work all around the country. As long as you have the charging station and the devices with you, you're okay. Before you leave, call your provider to let them know where you're going.
Do I have enough medication for the trip?
It's important to have enough medication to last through the trip, or have a place where you can get them along the way. It's best to keep those prescriptions refilled, as sudden drops in dosage can cause unpredictable negative effects. Make sure that you've got your medical alert system pendant with you in case of an emergency or fall.
If a medical emergency does happen, will my care be covered by my insurance provider?
None of us anticipates having an accident happen while we're on vacation, but they do happen. Along with your GPS medical alert system, it is also beneficial to carry along a little extra cash just in case something completely unexpected happens.
Am I going to visit people, or am I taking this alone?
It's always good to have someone with you while you're traveling – not only for companionship, but to ensure your safety on the trip.
Being out on your own and vacationing independently is wonderful, but sometimes it's good to have that little extra boost of safety on the trip. It's like having the safety of the medical alert system nearby.
Do I need to arrange for health services while I'm on vacation?
Sometimes, we all need that little extra bit of care. If your insurance provider works with a national home health services group, they can give you care during the trip. While a GPS medical alert system gives that touch of protection, having trained medical personnel standing by can also be of great service.
Do I have any mobility limitations?
Just like calling your GPS medical alert system provider before leaving, having the arrangements for any mobility issues made before the trip will benefit you far more than 'springing' it on people. The value of planning is not lost on people, and they will do what they can to make your vacation the best possible.
It's easy to travel around the country with your medical alert system. That gives you the peace of mind while the wonderful scenery can refresh you and make you feel like a new person. We hope that your vacation is the best that you've ever had!
Related Content:

Free Brochure
By Mail
Or call us at
1-855-272-1010