Medical Care Alert on Nov 28th 2022
Smartwatches are more popular than ever, and are increasingly useful for elderly family members.
With a focus on fitness, health and safety, smartwatches have become a helpful tool for elderly folks to stay on top of their health and keep in touch with loved ones.
In this guide, we'll review the top features of smartwatches that can benefit the elderly, and how to find the right one for you.
What Is A SmartWatch?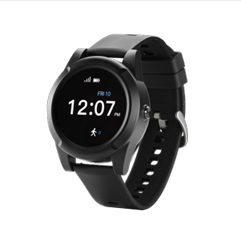 Simply stated, a smartwatch is a device worn on the wrist that does more than just tell time. A smartwatch typically has a touch screen face that enables the wearer to "swipe" between screens to get to additional functionality like a pedometer to track steps, a heart rate monitor, and other useful features. A smartwatch is powered by a battery and is generally charged daily for best results.
The most well known smartwatch is the Apple Watch. With a price tag between $500-800, an Apple Watch is a sophisticated device that typically pairs with an iPhone and seamlessly exchanges information between the two. It's a great addition to your Apple eco-system if you already have an iPhone, but is not necessarily the best smartwatch for elders who are not familiar with how this technology works.
How Does A SmartWatch work?
A smartwatch basically has a display that tells the date and time, and other information it is either tracking or gets off of the internet. For example, a smartwatch that tracks your steps will tell you how may steps you've taken, how far you've walked, and may give other information like your pace and heartbeats per minute while walking.
Most smartwatches will have sensors to detect your movement, heart rate, and other data. Some smartwatches claim to be able to detect falls, but we find there is often too much motion on the wrist and arm for this to be a reliable feature as a smart watch for seniors with fall detection will likely won't throw a bunch of false alarms during regular movement.
Some smartwatches are stand-alone, meaning they don't have to connect to a smartphone to work. A good example of this is a fitness smartwatch tracker like a FitBit. This has a singular purpose, so it probably wont also give you access to the internet or be able to call for help in an emergency.
Other smartwatches like those from Apple and Samsung are designed to pair with an existing smartphone and share data between the two. These take an additional level of sophistication to use, making sure that the Bluetooth pairing is set correctly between the two devices, log-in's to each device are synchronized, and firmware is updated regularly. While good for younger users, these are not the easiest smartwatches for elders to use due to the extra complication of pairing to a second device.
Which SmartWatch Features are Best for Elderly Folks?
Here are some features to look for when choosing a smartwatch for elders in your family:
Large, easy to read face to tell the time and other information. Some smartwatches are just too small or their display's use small fonts which make it hard to read for aged eyes.
Less features, not more. Too many smartwatches jam in a lot of useless apps that will make the display seem cluttered and overwhelming. A good smartwatch for elders will have just a few, easy to read and useful apps on the display.
Pedometer. Track your daily steps and encourage walking.
Heart Rate Monitor. Track your heartrate at any time, whether active or measuring your resting heart rate.
Emergency Response Monitoring. A useful smartwatch for elderly folks will have 24/7 monitoring access and be able to call for help in an emergency. The smartwatch will have 2-way voice capability and you'll speak directly into the watch to tell the operator what help you need.
Medication Reminders. Program in medication reminders to let the smartwatch signal when it's time to take your next dosage. This improves compliance with medication and helps you stay on top of your meds.