Medical Care Alert on Feb 15th 2023
Medical Alert Systems Can Be Used For More Than Just Falls
Medical emergency alert systems have become an important tool for older people who want to live independently and lead an active life.
Medical Alert devices can be carried around the home and used to call for help quickly if an emergency occurs. Most people think of using a medical alert device in case of fall. Here are four more situations where you can use the alert device:
Fire and Smoke
Fires can start unexpectedly and spread quickly. A single ember can ignite curtains, furniture or carpets without warning. The smoke that fills the home makes it difficult to breath and move through the house. This can trap a person in a single room far from the phone or the front door. A medical alert device allows someone to call for help from any location if a fire starts in the house. The monitoring center can quickly contact the local fire department to deal with the blaze.
Medical Emergency
Seniors and people with existing medical conditions can encounter problems at any time. This includes in the middle of the night. Living with a serious medical condition while alone is not easy. The sudden onset of a heart attack, stroke or seizure can leave a person immobilized and unable to call for help. An alert system allows a person experiencing a medical emergency to send a call for help with the push of a single button. This triggers an emergency response from trained medical professionals who will arrive and provide treatment. Some of the most common medical emergency situations we respond to include shortness of breath, dizziness, chest pains, and intense vomiting.
Burglary
Over 6,000 burglaries occur in the country every single day. Burglars can enter quietly through doors, windows or garages. Anyone who is in the home when a burglar arrives is in serious danger. The burglar could be physically violent. A medical alert device can be used to report or deter the burglar. The service monitoring the device can immediately contact police. It is possible to do this from anywhere in the home so the burglar is not alerted to the presence of someone else in the house. This increases your safety. Since medical alert systems use a two-way loud speaker, the voice of the monitoring agent could actually drive burglars out when the monitoring service agent announces police are on the way.
Carbon Monoxide Poisoning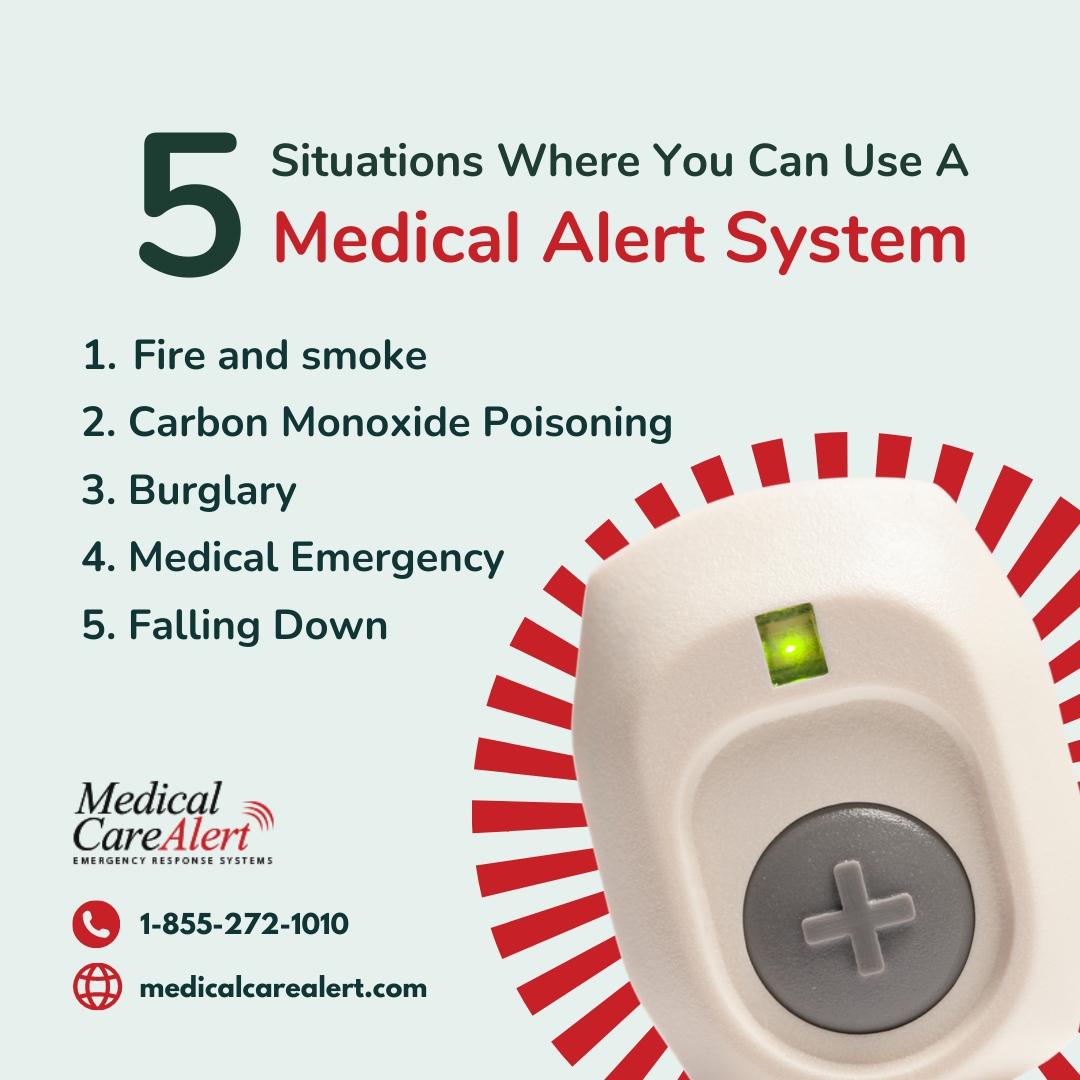 Carbon monoxide (CO) is a gas that has no color and no odor. It can collect in a home without anyone noticing. CO can come from a furnace, an oven, a space heater or an unlit pilot light. Breathing in the gas will start to cause dizziness, nausea and headaches. It will eventually cause death if nothing is done. A medical alert system allows a person to contact help as soon as CO poisoning is suspected. A fast response to potential CO poisoning can allow a person to get out of the house and receive treatment before sustaining permanent injuries.
Falling Down
Seniors, people with mobility issues and individuals suffering from diseases like osteoporosis must take great care to avoid falling while alone in the home. Falling down could result in a broken bone that makes getting up impossible. Some seniors might not have the strength or mobility to get back up. Another risk is falling down stairs and sustaining serious injuries. Medical emergency alert systems can be used to call for help in these situations. The alert device requires a simple key press to contact the monitoring service or local authorities for help after a fall.


It's important to remember you can press your medical alert emergency button for any reason – our EMT/EMD Certified trained monitoring center agents are on call 24/7/365 to serve you whenever you need help.


Related Content: