Your smartphone is always with you - now try it for keeping important information in case of emergencies.

I
t has become easy for smartphone users to
store "ICE" or "In Case of Emergency"
information so it can be available to first responders if an accident or emergency occurs. Many of us have had either a major surgery or other health related incidents in our lifetime. This information can be vital to first responders trying to assist us in an emergency. These "apps" include your entire medical profile such as emergency contacts, vital conditions, medical history, blood types, allergies, medication list, and even identify you as an organ donor. Even if your phone is password protected, this emergency information can be accessed from a locked screen.


Apple Users
These phones (version 6.0 or higher) come with a free Health app installed. It is a built-in medical identification feature that can be accessed by ambulance and first responders providing your emergency contact numbers, medical history, and blood type.
Seecure free personal safety app - lets you create groups of friends and family to watch over each other. Works on all iOS Apple iPhones.
Android Users
Can download a free app that will store all this information as well, but is able to include more than one person's medical data (e.g. your husband, wife, children). I reviewed two apps that are free, these are "My ID-Medical ID" and "ICE-Emergency". I recommend these based on the locked screen feature.

Seecure free personal safety app - lets you create groups of friends and family to watch over each other. Works on all Android phones.
Jitterbug Smart2 Users
"*5" The 5-Star button on your phone provides 24-hour access to personalized assistants who can provide first responders with information from your personal emergency profile stored in their database. This ICE service is also available on the Jitterbug flip phones too. It is important that owners create a profile with their service provider, GreatCall to activate the emergency service.
Just some tips from Auntie Gadget.

About The Author: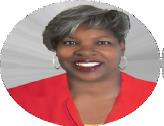 Liz Moncrief Chaney, known as "Auntie Gadget", loves buying and trying new technology gadgets on the market. A senior herself living in the Metro Detroit, Michigan area is writing a series of articles that she hopes will be informative for the technologically timid. She also conducts workshops on "Understanding Your Smart Phone".
She has been providing technology training for over 20 years. She is an experienced software trainer for professionals, clerical workers, seniors, and children. Formerly a college adjunct professor teaching T
echnology Management courses.
Free Brochure
By Mail
Or call us at
1-855-272-1010