Try These 5 Easy Steps to Make a Bathroom Accessible and Safe for Seniors
It's really easy, and important, to make a bathroom safe for seniors. Important because one in three seniors over the age of 65 will experience at least one fall annually, according to the Centers for Disease Control. The bathroom is one of the most dangerous rooms in the home for the elderly. Slick floors, small spaces, sharp edges and few things to grasp make mobility difficult and increase chances for dangerous falls.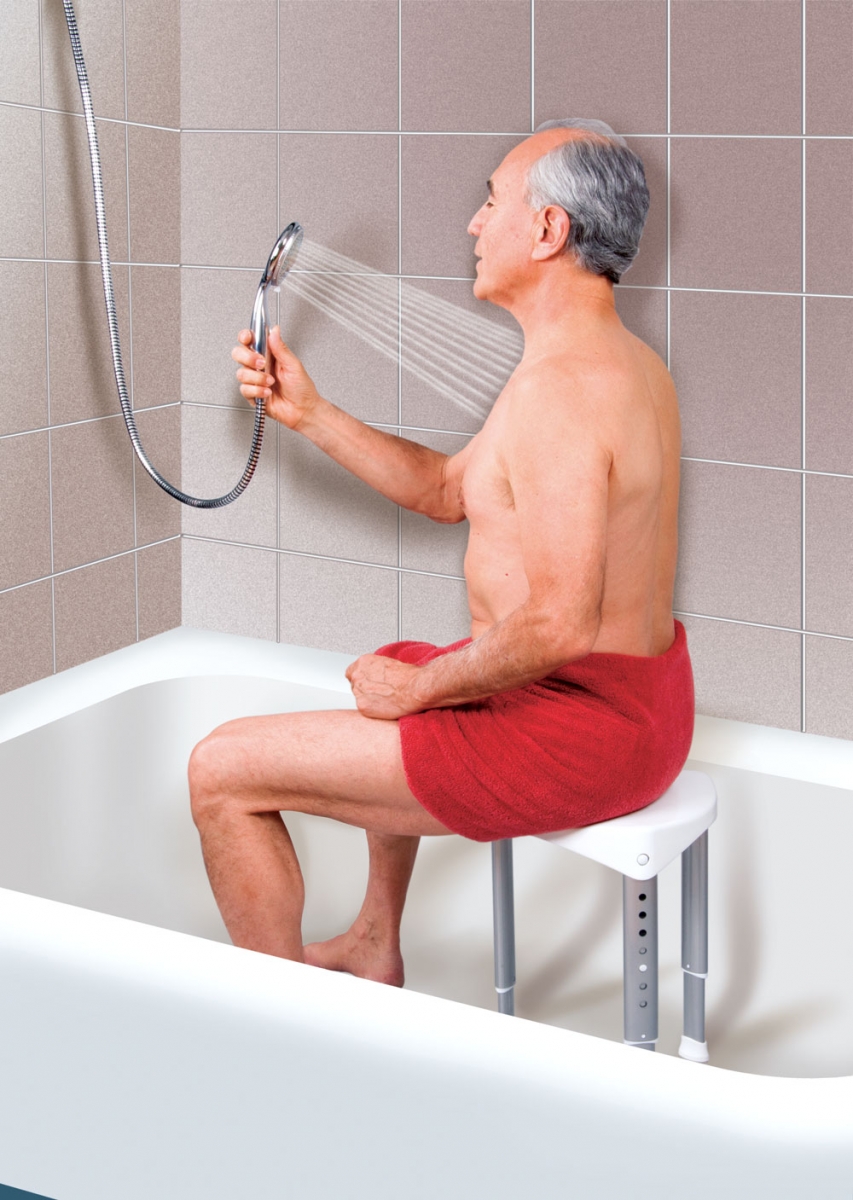 Unable to complete everyday tasks with the same mobility they once had, many senior homeowners are left with unsafe measures to prevent falling in the bathroom. These may include insufficiently secured towel racks that could fall when gripped for support, shower chairs that are not slip resistant and sliding shower doors that could move unexpectedly when entering and exiting the tub.

We all want seniors to live safely and comfortably in every part of their homes. It's important that senior homeowners are aware of the challenges independent living can present and take the appropriate precautions, especially in the bathroom where most falls occur. These easy ideas can help increase bathroom safety for seniors and give everyone in the family increased peace of mind.


Try these helpful ideas to create a safe, accessible bathroom that will look great for years to come.
Switch to an ADA-compliant faucet. Some faucet handles require a surprising amount of force to operate, and knobs can be difficult to twist for seniors. Instead, try an ADA-compliant single lever faucet that allows for easy on-and-off operation without the need to grip. This faucet style, which complies with the requirements of the Americans with Disabilities Act (ADA), also has an adjustable hot limit safety stop that helps reduce scalding. This simple and inexpensive alteration will make washing up more comfortable for elderly parents and grandparents, and is also a great excuse to perk up the look of your bathroom.
Try a taller toilet. Standard toilets have a bowl height of about 15 inches, but many manufacturers have recently introduced models that are an inch and a half higher. These taller commodes make sitting down and getting back up less stressful on the body. Bring high style and performance as well as comfort to your bathroom by upgrading to a luxury toilet. Many manufacturers offer several elegant "Right Height" toilets in sleek, easy to clean, one-piece styles.
Keep a medical alert button by the toilet. Most slips and falls occur in the bathroom. Keeping an extra medical alert button near the toilet is a smart idea so they can summon help right away.
Think about accessible storage. Keep bathing and grooming accessories neatly stowed out of the way to reduce trips and falls, and to keep them clear of wheelchairs. Accessibility and functionality are essential when planning for convenient storage options in the bathroom.
Make it easy on the eyes. High-gloss paints and tiles can produce an uncomfortable glare, so introduce matte finishes for better visibility. Choosing wall and floor colors or patterns that contrast is another great way to increase visual perception of space and help older adults feel more confident as they move about the room.
Replace an unused bathtub with a walk-in shower. Holding on to the ability to bathe independently is key to aging gracefully and with dignity. The ubiquitous tub/shower unit in so many homes may be uncomfortably high for the elderly and disabled to step over, and too low to sit down into for bathing. American Standard has a unique low-cost solution with its walk-in seated shower that features a wide, contoured, full-sized seating area with recessed front to make standing or sitting while showering comfortable and easy. This unit has a low 3-inch threshold for easy access in and out, plus a built-in wrap-around grab bar for added safety.
Provide a spa-like walk-in tub. Why shouldn't Mom have her own home spa? The greatest generation is also the "bathing generation." Boomers' parents are more likely to benefit from replacing an old, under-used bathtub with one of today's walk-in tubs. Installing a walk-in bathtub or shower system with a built-in seat brings back a measure of independence in self-care. Many walk-in tubs are designed to fit perfectly in the space of a conventional tub for easy installation and are now available with luxurious special features. Some even have a smart drain option that removes water in less than two minutes, so there is no need for a long, cold wait for the tub to drain before opening the door to exit the bath. Other walk-in bathtubs are available with advanced features like whirlpools and combo massage systems, so bathing can be safer and more enjoyable.

A study by the Home Safety Council found that falls are the leading cause of home injury-related deaths among older adults. Making simple home installations can make day-to-day living for seniors easier, reduce their risk of falling and give peace of mind to those close to them. Many of these bathroom upgrades can be installed by most anyone and are recommended for overall safety and optimal mobility for seniors.

Living independently at home is a goal for most seniors and their families, so use these ideas on how to make a bathroom safe for seniors both at their home, and at yours. Creating an accessible bathroom is an easy, and affordable, way to help seniors live independently at home.

See Our Google Profile


Want more safety tips to prevent falls in the home? Check out these resources:
Kitchen Safety for Seniors Infographic - Another great infographic with ways to make the kitchen a safer area.
Bathroom Safety for Seniors Infographic - Another great infographic with ways to make the bathroom a safer area for seniors.
"50+ Ways To Prevent Falls" Fall Prevention Guide - Our FREE Fall prevention guide - a great resource to help make the home safer for seniors
"One Step Ahead" Caregiver Guide - Our FREE guide to help caregivers set up their elderly family members (and themselves) up for success
5 Ways to Make Bathroom Accessible and Safe - Additional tips and ideas on easy and inexpensive bathroom makeovers to help increase bathroom safety for elderly family members

$99 DIY Bathroom Makeover - Easy way to make a bathroom safe, on a budget!
Mobile Medical Alert - An overview of how a mobile medical alert system can help active seniors live safe and independent lives